Hi there!
Welcome to Martin Neitzel's "private" pages. I'm a CCIE (Cisco Certified Irrleitendes Entity). Beyond such official duties, I also have not-so-official interests which may or may not be documented here.
Speaking of "certified", here is my PGP key for really really really confidential emails. And speaking of emails, ...
Sending Email to me
I get 300 emails on a normal work day. If you want your email to be read and perhaps even answered, you can improve your odds for quick action by following these guidelines
Current fun project
I passed the Hurricane Electric's fun IPv6 certification series, initially based on a 6to4 tunnel at home, later with "native" IPv6 connectivity.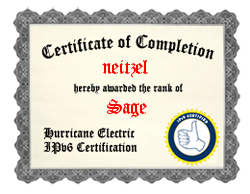 Pictures Presenting Our Pretty Premises
I'm currently compiling a guided tour through our various office rooms. I'm still shooting pictures, but you can already take a peek at what is there.
The tour has a very technical bias and is featuring mostly cables, cables, and, uhm..., even more cables. It starts in our office rooms and closes with "Alcatraz", our server room.
The digital camera essentially died after I took the initial sequence of about eighty pictures (and before I learned about the "macro" switch, sigh).
Anyway, just jump along the "next" links, starting at the swing.
Pictures about my Personal Computing @Home
In addition to my main machine at home (a 486 bought around 1994), I have accumulated a bunch of used machines for real cheap money. In order to save space, I'm now experimenting with new interior designs revolving around the "Computertisch" motive.
Technical Library
Local residents, in particular CS students, are invited to borrow items from my personal library at no charge.
Public Software
Some of the software I have written is freely available. Nevertheless I'm sometimes asked about some, uh, compensation method. Instead of pizzas or beer kegs, I'd enjoy some picturesque postcard to snail mail address or, if you really have too much money to spend, any item from the local amazon-deliverable book/CD list. Don't feel obliged to anything, and watch out that some books are really expensive.
Other semi-professional links
Since 1985, I left my droppings all over the Usenet/Internet, at least google seems to know me quite well. (I am not the genealogist or any sports man, but other then those few its me me me.)
I am an active member of Escape eV., a local not-for-profit association supporting/promoting electronic communication technologies such as Mail/News/Internet (association, my home page there)
I used to be an active member and organizer of the local Linux Users Group Braunschweig.
my computer workplace (german)
Juggle, a professional support page for J/Unix. (The site which just says "no!" to graphics.)
Martin Neitzel